BioC December 2015 meeting
A meeting of the Biomolecular spectroscopy & dynamics Cluster (BioC) was held on Tuesday 8 December 2015.
Some photos of the BioC meeting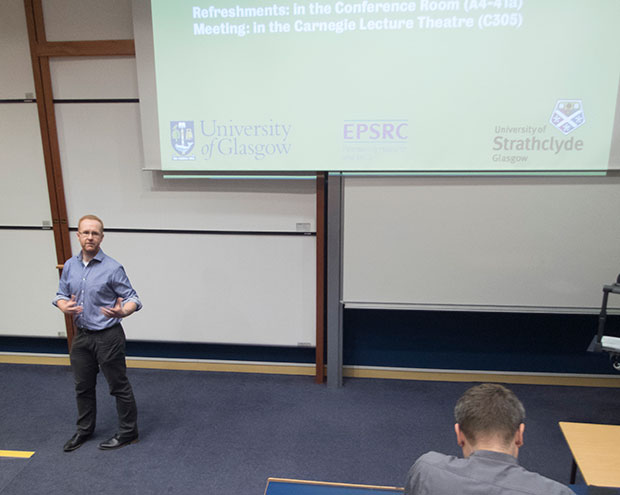 Neil Hunt (University of Strathclyde) opening the meeting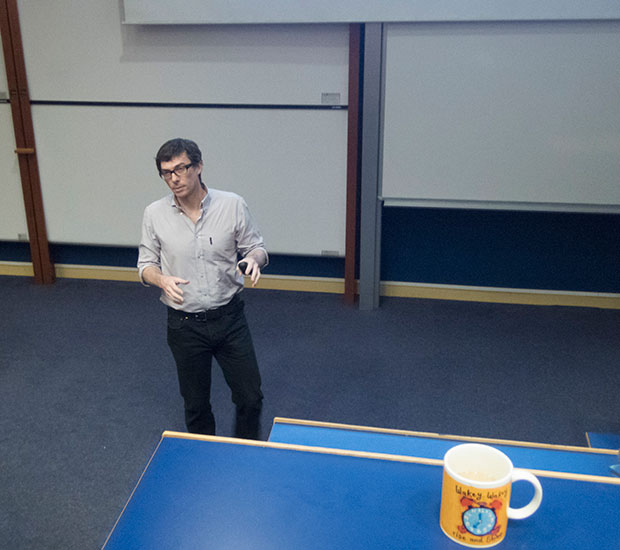 Glenn Burley (SU)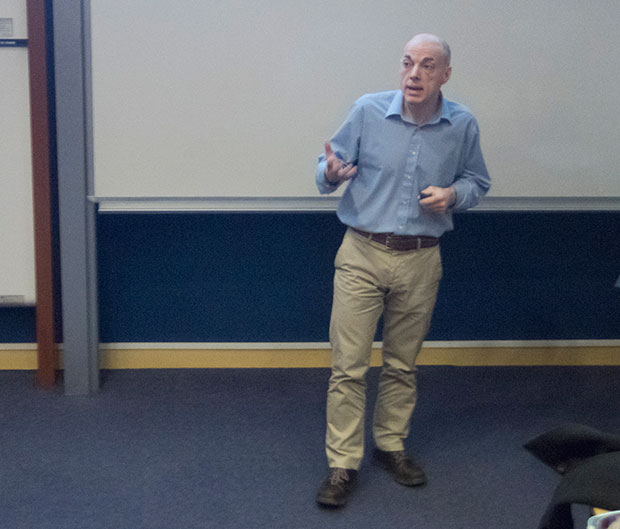 Andrew Sutherland (GU)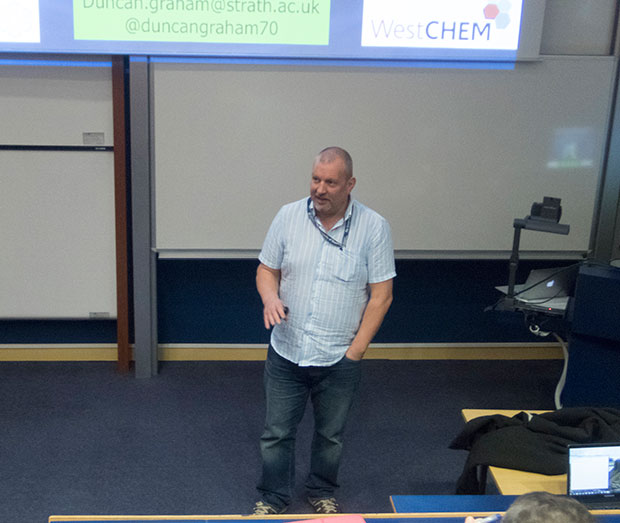 Duncan Graham (SU)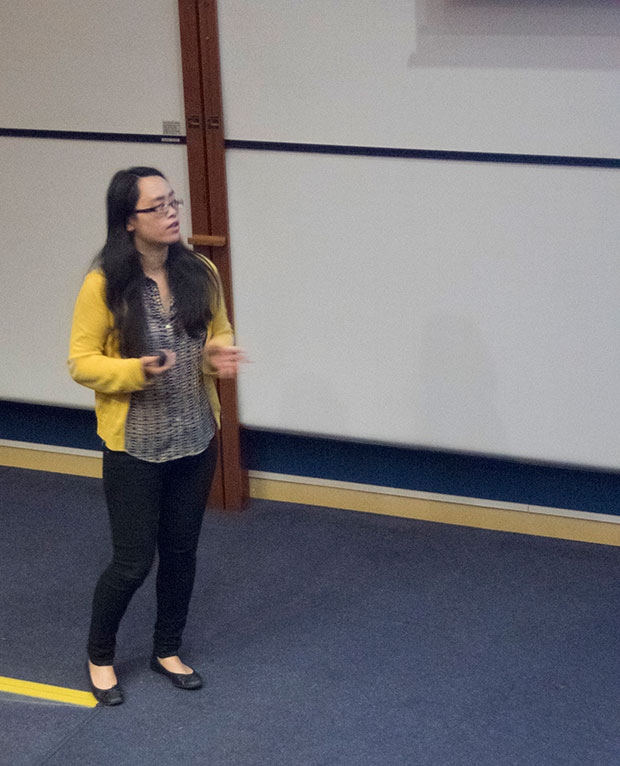 Yinan Fu (GU)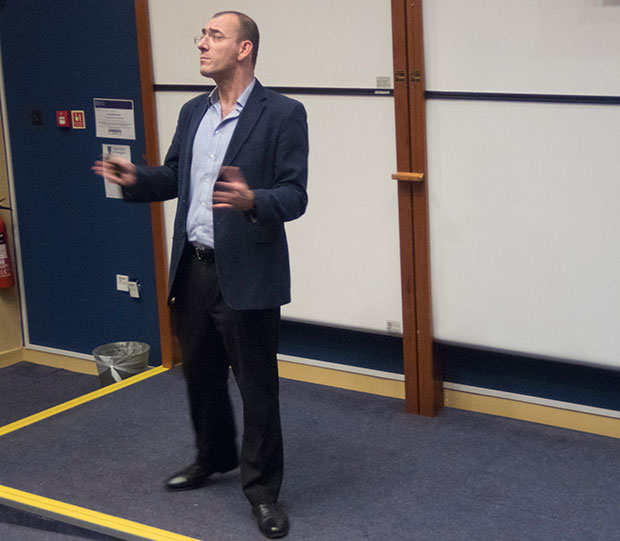 Alistair Henry (UCB)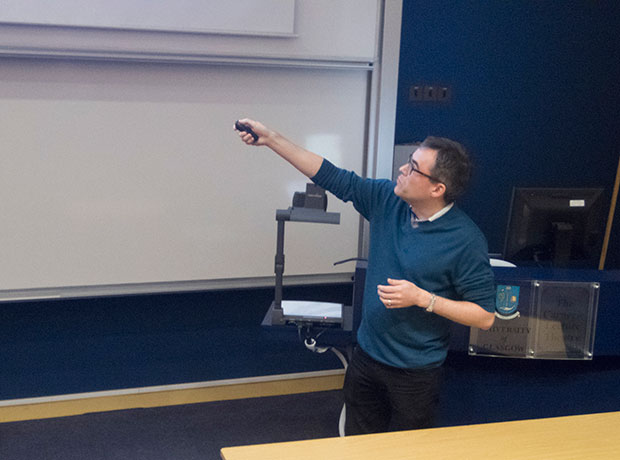 Alastair Wark (SU)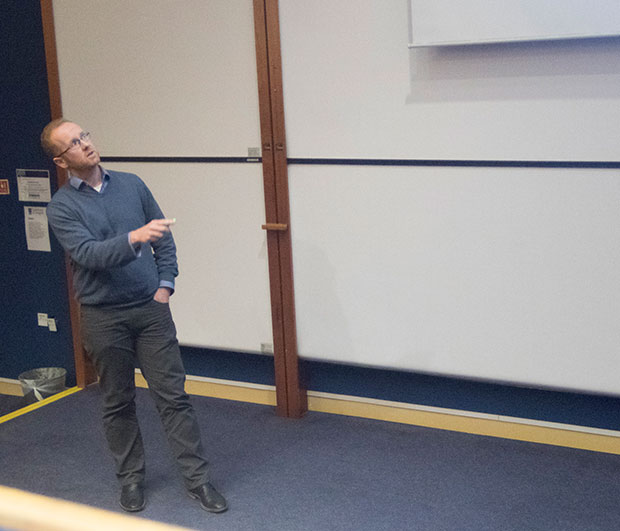 Neil Hunt (SU)
No picture of Klaas Wynne...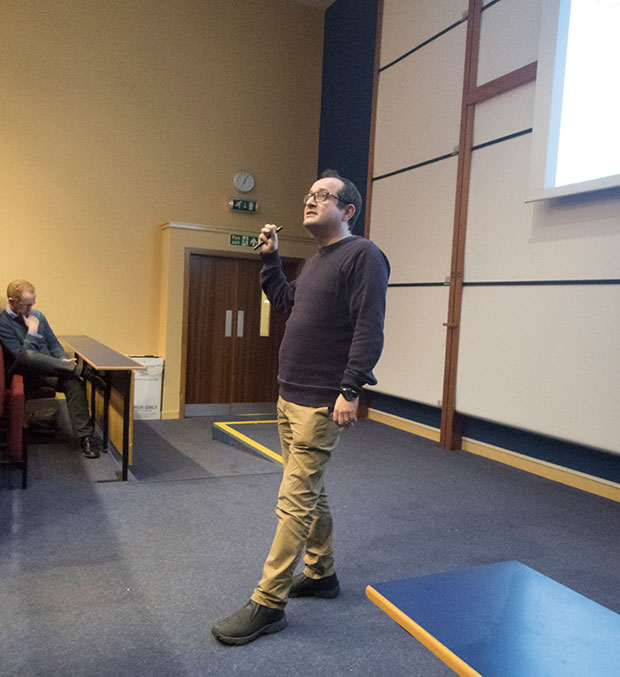 Malcolm Kadodwala (GU)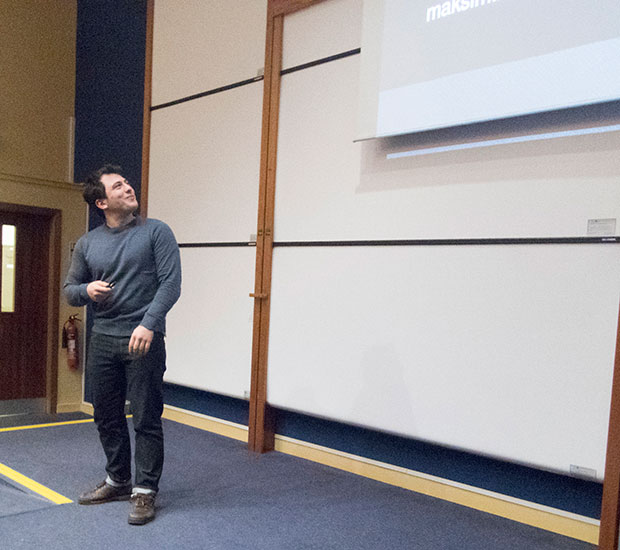 Maksim Misin standing in for Maxim Fedorov (SU)
Unfortunately, no photo of Helen Niblock (EPSRC) (too busy listening...)
Where?
The BioC 2015 meeting will be held at the University of Glasgow, School of Chemistry, in the Joseph Black Building. Talks will be held in the Carnegie Lecture Theatre (C305) and refreshments will be served in the Conference Room (A4-41a). Posters will be displayed on poster boards in the Conference Room.
Below is a Google map showing the route from the Hillhead underground station to the Joseph Black building. If you arrive by taxi, ask to be dropped off in front off the Wolfson Medical Building (the new glass-fronted building) on University Avenue. The Carnegie Lecture Theatre is indicated with a red x. (General maps and travel information for the University of Glasgow.)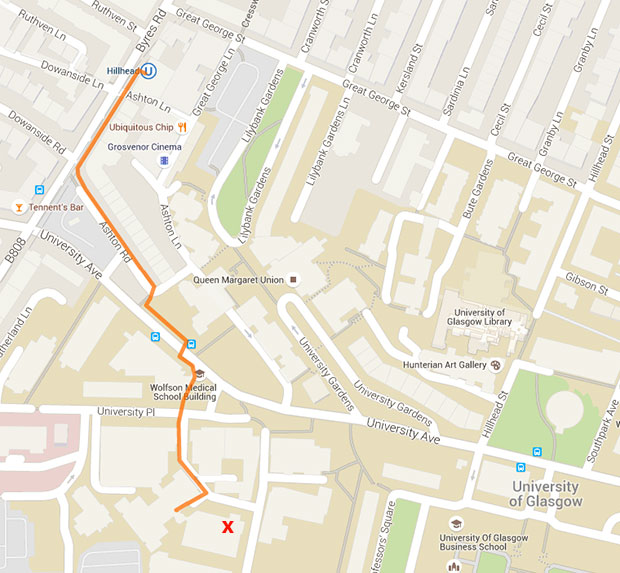 Programme
| | | |
| --- | --- | --- |
| Time | Speaker | Title |
| 10:30 | Coffee | Coffee will be served in the Conference Room (JB A4-41a) |
| 11.00 | Introduction/Welcome | - |
| 11.05 | Glenn Burley (SU) | Molecular recognition strategies for the construction of DNA-programmed optical devices |
| 11.35 | Andrew Sutherland (GU) | New Molecular Tracers for the Imaging of Disease |
| 12.05 | Duncan Graham (SU) | Nanoparticle based analysis of biomolecules, cells and tissue |
| 12.20 | Yinan Fu (GU) | Photoreception and signal regulation by the plant UV-B photoreceptor UVR8 |
| 12.35 | Lunch and Poster Session | |
| 13.35 | Alistair Henry (UCB) | Combining antibody technology, structural biology and molecular dynamics to define new protein-protein interaction opportunities |
| 14.05 | Alastair Wark (SU) | Enhanced Optical Bioimaging and Sensing Using Nanoparticles |
| 14.20 | Neil Hunt (SU) | Ultrafast 2D-IR spectroscopy of biomolecular interactions |
| 14.35 | Klaas Wynne (GU) | Ultrafast laser spectroscopy and microscopy |
| 14.50 | Tea Break | - |
| 15.10 | Malcolm Kadodwala (GU) | Biosensing with a twist: Detection and characterisation of biomaterials with sculpted plasmonic fields |
| 15.25 | Maxim Fedorov (SU) | Solvation properties of (bio)molecules by molecular theories: achieving experimental accuracy |
| 15.40 | Allan Watson (SU) | |
| 15.55 | Steven Magennis (GU) | Single-molecule fluorescence spectroscopy of biomolecules |
| 16.10 | Helen Niblock (EPSRC) | |
| 16.25 | Round-up + discussion | - |
| 17.00 | End | - |