The Forgan Group
The Forgan Group at the University of Glasgow was established in October 2012, and is always looking for new members - click the Join Us tab for more information. Click here to see previous members of the group, and some group photographs can be found in our Gallery.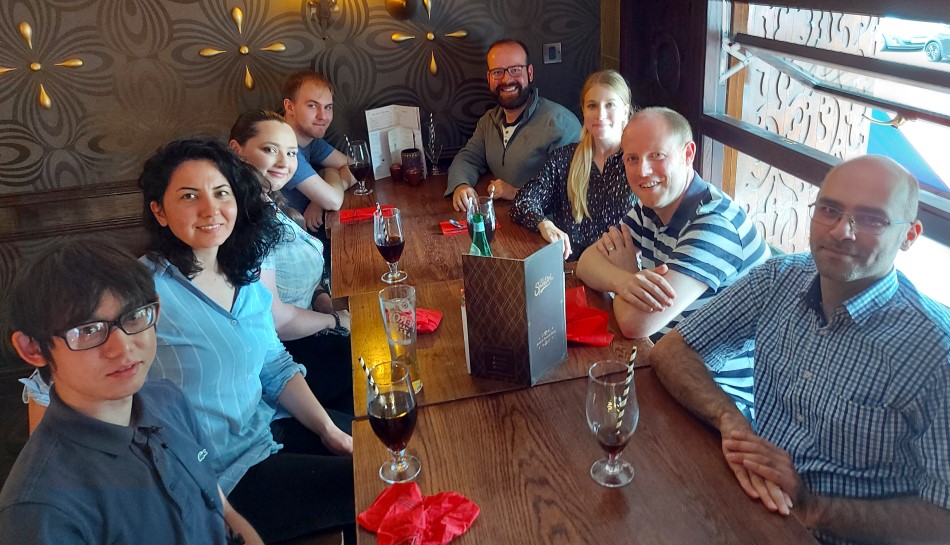 Our current group members are:

Dr Fatma Demir Duman
Postdoctoral Research Associate 2018-2022
Fatma joined the group in October 2018, and is examining the interaction of MOFs with biological entitiesas part of the ERC funded project SCoTMOF. She received her PhD from Koc University, Istanbul, and was previously a postdoc at UCL Medical School.

Dr Arvin Eskandari
Postdoctoral Research Associate 2021-2023
Arvin joined the group in April 2021 to work on the EPSRC funded IRC in Targeting Hard to Treat Cancers, where he is investigating new protocols to assess drug delivery from MOFs. Arvin obtained his PhD at King's College London and was previously a postdoc at UCL.

Dr Dominic Bara
Postdoctoral Research Associate 2020-2022
PhD Student 2016-2020
Dom joined the group in October 2016, after completing a BSc (hons) degree at the University of Bath with Prof Andrew Burrows. He has worked on many aspects of trivalent MOF chemistry, from self-assembly to biological activity, gaining his PhD in 2020. Dom is now a PDRA with the group.

Dr Sophia Boyadjieva
Postdoctoral Research Associate 2021
PhD Student 2017-2021
Sophia joined the group after completing a MChem (hons) at the University of Leeds, working with Prof Michaele Hardie. After obtaining her PhD in 2021, focussed on size-control synthesis of Zr MOF nanoparticles and surface functionalisation for drug delivery, she is working as a PDRA to characterise new phases of Zr MOFs obtained during these studies.

Catherine Walshe
PhD Student 2018-2022
Catherine's PhD is funded by the Royal Society, examining the postsynthetic modification of flexible MOFs as a methodology for trapping harmful gases, and the subsequent effects on breathing behaviour.

Ignas Pakamorė
PhD Student 2018-2022
Ignas is focussing his PhD on two main areas - in depth crystallographic analysis of MOFs and automation of synthesis and analysis.

Rachel Foulkes
PhD Student 2019-2023
Rachel started her PhD in October 2019, working in tandem with the EPSRC funded IRC in Targeting Hard to Treat Cancers. She is developing MOFs to target pancreatic cancer.

Khi Chhay Chou
MSc Student 2021
Chhay's MSC project is focussed on understanding the influence of coordinating solvents on the formation of competing phases of Sc MOFs.