Introduction
Find out what I'm up to in my post-academic career at www.gbarr.info
Until March 2010, I was a post-doctoral research fellow in the Theoretical Crystallography group, part of WestCHEM at the Department of Chemistry, University of Glasgow. The group was led by Professor Chris Gilmore. I have since left for pastures new, but maintain close links to the Department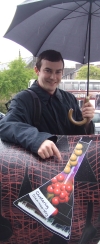 Along with Andy Parkin, I am jointly responsible for Chem-moo-stry - the Chemistry Cow! A unique member of the 2006 Edinburgh Cow Parade, Chem-moo-stry.org is a scientific bovine, interested in explaining science through art – displaying some of the modern, cutting-edge chem-moo-stry research from the cow-laborations between the Scottish Universities forming ScotCHEM.
After the public Cow Parade ended, Cow #64 was brought back to Glasgow University's Chemistry Department, restored and on display after being unveiled by Prof. Anne Glover, the Chief Scientific Advisor for Scotland. She has now moo-ved on to be displayed at the Glasgow Science Centre.
I was also involved in helping with IT support in the Chemistry Department, in particular working on special projects, including the new Chemistry Plasma Information Screen System, and other database and web-related systems.