The electrochemical and spectroscopic properties of coordination complexes
Finally, we also have fun making and examining the properties of new coordination complexes. Many of these complexes have fascinating electronic, redox and spectroscopic properties, which we investigate with a battery of techniques (NMR, UV-vis, FTIR, Raman, powder and single crystal diffraction, electrochemistry, EPR, conductivity, mass spectrometry, computational techniques....) in order to work out how they do what they do!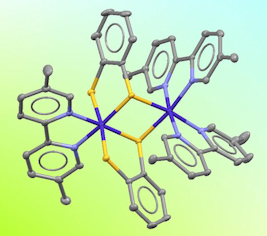 Home. Contact: Dr Mark Symes, Joseph Black Building, University of Glasgow, G12 8QQ, 01413304416, mark.symes@glasgow.ac.uk.