We have also shown that nanomolar concentrations of nickel in solution can catalyse electrochemical water splitting at neutral and basic pH. This is extremely important when trying to identify new water oxidation catalysts: new catalysts must henceforth demonstrate that adventitious nickel contamination is not the cause of any water oxidation activity that is observed. Our paper on this was published in JACS in 2015.
Now, We are working on developing high-throughput methods for the rapid screening of mixed-metal catalysts for the oxygen and hydrogen evolution reactions of water splitting, with the aim of discovering robust and inexpensive catalysts for incorporation into a new generation of electrolysers.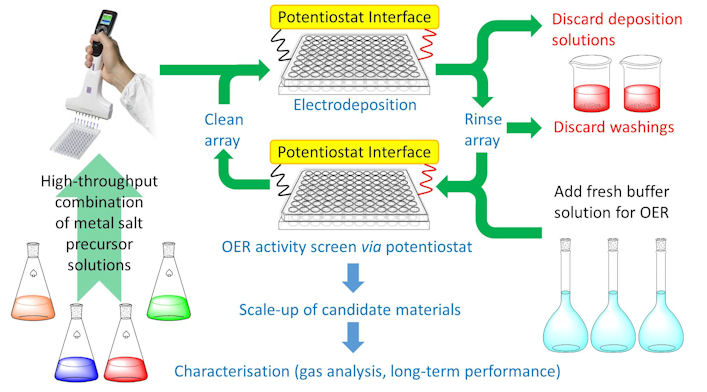 Renewable routes to ammonia
A primary target of our investigations is the fixation of nitrogen to ammonia. Ammonia is used mainly for fertilisers but is also important in the manufacture of pharmaceuticals, explosives and plastics. Beyond these existing uses, it is also conceivable that dinitrogen-reduction products such as ammonia and hydrazine might one day be used as fuels, where the end products of combustion are simply nitrogen and water. Hence a green energy storage cycle would be possible if the hydrogen that was originally used to reduce the nitrogen was obtained from water using renewable energy inputs (e.g. solar-driven electrochemical or photoelectrochemical water splitting).

In effect, the nitrogen would be used as a carrier for the hydrogen produced from water splitting in much the same way as CO2 would do in an anthropogenic carbon cycle. A key advantage of using N2 for this purpose over CO2 is that there is significantly more N2 available in the atmosphere for this fixation. Moreover, thermodynamically speaking, the energy required to reduce N2 to NH3 compares favourably with that required to reduce CO2 to its most easily obtained fuel, formic acid. However, the activation energy for nitrogen reduction is prohibitively large and methods for generating NH3 are generally sluggish. Our research program looks at new ways to overcome this energy barrier to nitrogen fixation, using scalable electrochemical methods and by examining the fundamental proton-coupled-electron transfer processes involved. Check out our review of electrochemical ammonia production here.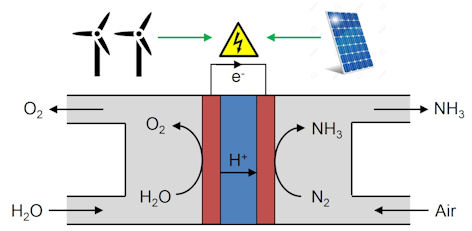 Alternative routes to nitrogen fixation
We are also very interested in exploring alternative routes to nitrogen fixation, such as the sonochemical oxidation of nitrogen to nitrite. This allows much more mild conditions to be employed than with nitrogen reduction to ammonia (open to air and water, and at room temperature and pressure). Once nitrite is produced, its central position in the nitrogen cycle allows its ready conversion to nitrogen species in other oxidation states using electrocatalysts that we are developing for these transformations (see comparison with the conventional Haber Bosch and Ostwald processes below).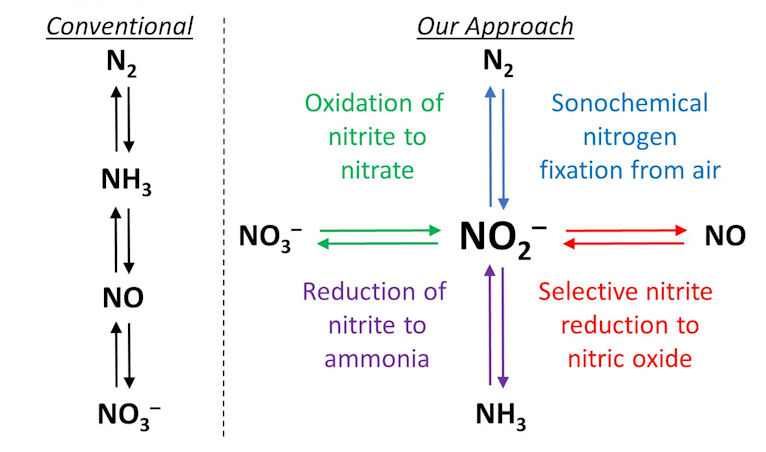 Electrosynthesis
In addition to the electrosynthesis of ammonia and the nitrogen oxides, we are also interested in the application of electrochemistry to the synthesis of more complex organic compounds. We are currently developing both batch and flow-cells to allow us to trap reactive intermediates on appropriate timescales.

The electrochemical and spectroscopic properties of coordination complexes
Finally, we also have fun making and examining the properties of new coordination complexes. Many of these complexes have fascinating electronic, redox and spectroscopic properties, which we investigate with a battery of techniques (NMR, UV-vis, FTIR, Raman, powder and single crystal diffraction, electrochemistry, EPR, conductivity, mass spectrometry, computational techniques....) in order to work out how they do what they do!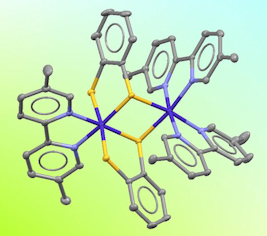 Home. Contact: Dr Mark Symes, Joseph Black Building, University of Glasgow, G12 8QQ, 01413304416, mark.symes@glasgow.ac.uk.