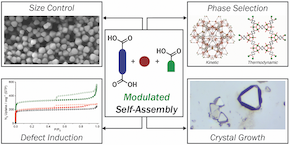 *74. "Modulated Self-Assembly of Metal-Organic Frameworks"
R. S. Forgan*
Chem. Sci. 2020, DOI: 10.1039/D0SC01356K .
Invited Perspective article.

*73. "Assessing Crystallisation Kinetics of Zr Metal-Organic Frameworks through Turbidity Measurements to Inform Rapid Microwave-Assisted Synthesis"
S. L. Griffin, M. L. Briuglia, J. H. ter Horst and R. S. Forgan*
Chem. Eur. J. 2020, DOI: 10.1002/chem.202000993.



*72. "Design of a Functionalized Metal-Organic Framework System for Enhanced Targeted Delivery to Mitochondria"
S. Haddad, I. Abánades Lázaro, M. Fantham, A. Mishra, J. Silvestre-Albero, J. W. M. Osterrieth, G. S. Kaminski Schierle, C. F. Kaminski, R. S. Forgan* and D. Fairen-Jimenez
J. Am. Chem. Soc. 2020, 142, 6661–6674.

*71. "Correlating Pressure-Induced Emission Modulation with Linker Rotation in a Photoluminescent MOF"
A. Sussardi, C. Hobday, R. J. Marshall, R. S. Forgan,* A. C. Jones and S. A. Moggach
Angew. Chem. Int. Ed. 2020, DOI: 10.1002/anie.202000555.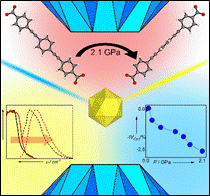 *70. "Multivariate Modulation of the Zr MOF UiO-66 for Defect-Controlled Combination Anticancer Drug Delivery"
I. Abánades Lázaro, C. J. R. Wells and R. S. Forgan*
Angew. Chem. Int. Ed. 2020, 59, 5211-5217.

*69. "Postsynthetic Modification of MOFs for Biomedical Applications"
P. Markopoulou and R. S. Forgan*
in Metal-Organic Frameworks for Biomedical Applications (2020), Ch12, pp245–276, edited by Mazoud Mosafari. Amsterdam, Netherlands: Elsevier Inc.
Invited book chapter.