Contact Us

We'd love to hear from you, and what you think about our cow. All feedback is gratefully received, and if you say really nice things, we might even send you a cow mug!
Please email me at gbarr [at] mac.com with any and all comments or feedback.
Who are we?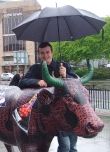 Gordon Barr
has been working as a researcher in the Chemistry Department at the University of Glasgow for over four years. In collaboration with industrial partners, he specialises in developing methods and software analysing powder diffraction and geometric structural information, which are used worldwide in both the academic community and in commercial organisations. He first saw the Cow Parade when at a conference in Prague.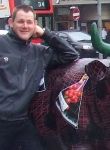 Andy Parkin
is a Lecturer in Structural Chemistry at the University of Glasgow, and has been working there for over three years. He has published over 50 scientific papers in his areas of expertise, principally solid state and materials chemistry.
He is heavily involved with the development of novel methods for the understanding of the structure of materials, and has a large number of collaborations with research groups in the UK and worldwide. He first saw the Cow Parade while on holiday in Stockholm.
To give our cow a novel and striking appearance, we commissioned professional graphic designer
Mark Kemp
to take the individual images from different chemistry research, and combine them into a single, unified design. His input took our ideas and transformed them into a piece of art that really captured the imagination. He also designed the original accompanying website in a similar style.
© 2006-2007 chem-moo-stry.org | Email cow@chem-moo-stry.org