The Chem-moo-stry Project

ScotCHEM and the RSC sponsored a cow as part of the Edinburgh Cow Parade. This cow, covered in designs showcasing some of the current state of the art research going on in Scottish Universities, was called chem-moo-stry.org and aimed to grab the attention of the general public and encourage them to find out more about the science shown on the cow by visiting this accompanying website.
As the largest public art event in the world, the
Cow Parade
is a high impact event that provides a unique opportunity to reach an extremely wide and varied audience. With the Cow Parade coming to Edinburgh in 2006, we felt there was a unique opportunity to showcase some of the cutting-edge chemical research being undertaken in Scottish Universities. This was the first time that the Cow Parade had been used to promote science in this way, and by making a visually striking statement with our cow, we hoped to challenge the myth that chemistry cannot be important and cutting edge as well as fun.
The cow was decorated with ten flasks, each containing a stylised image taken from actual published research representing work from the ScotCHEM Universities of Aberdeen, Dundee, Edinburgh, Glasgow, Heriot Watt, St. Andrews and Strathclyde.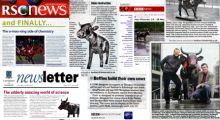 The accompanying website aimed to "explain the science behind the cow" to people whose interest was piqued by seeing it on the street.
The project generated a significant amount of local and national press coverage, including a radio interview and an exclusive photo shoot in the Times Higher Educational Supplement (!). Perhaps more important were the reactions of passers-by, who stopped to look and interact with the cow. During the period the cow was on display (May-July 2006), there were more than 1,500 unique visitors to the website, including some from bodies such as the EPSRC, the National Gallery, and the Scottish Funding Council.
Many thousands more saw the cow in person.
At the end of the Parade, Chem-moo-stry was purchased by the University of Glasgow, and has now been refurbished to allow her to continue the project...
© 2006-2007 chem-moo-stry.org | Email cow@chem-moo-stry.org