Fig. 2a
- the cell display with known phases included.
Fig. 2b
- The mixture cells.
The mixture cells are displayed as pie charts displaying the amount of each phase calculated to be in the mixture.
In addition to cell display there are other graphical outputs for results, including the dendrogram (
Fig. 3a
) and two varieties of 3D plot (
Fig. 3b
).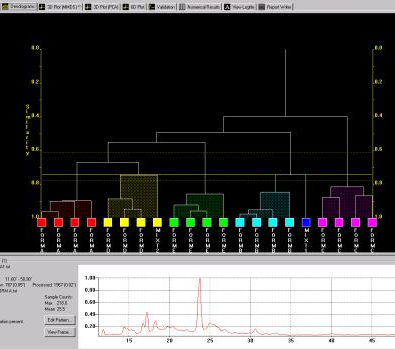 Fig. 3a
- the dendrogram.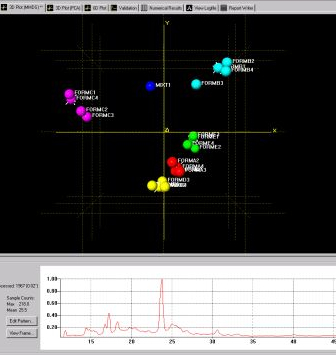 Fig. 3b
- one of the 3D plots.
Both display the calculated level of similarity. The dendrogram does this through a tree diagram - the lower on the similarity scale two patterns (coloured boxes) are joined by a horizontal tie-bar, the more similar the fragments are - while on the 3D plot each sphere represents a pattern, and the further apart two points are, the more different the corresponding patterns are. As a result, similar samples can be seen to 'clump' together into clusters. Very similar patterns produce tight clusters, whereas less identical ones give more diffuse groupings. The user is therefore able to tell at a glance quite a lot about the patterns being grouped together by the program, and any outliers are easily spotted. The colours are taken from the dendrogram display, allowing comparison of the results from the two separate analysis methods.
The results suggest this data set is made up of 5 separate polymorphic forms, and two mixtures of two or more pure phases.
Once analysis is complete there is an option to automatically generate a report including screenshots from the various graphics displays.